Membership Card Printing
LET'S GET STARTED
Choose Your Design Option
Upload your own custom membership card printing design.
Choose this membership card printing service if you have a design ready for printing or if you need custom pricing. Instantly see our best price based on the plastic membership cards printing options you choose. Try our card printing pricing and see for yourself.
We're the membership card company with these important features:
Instant Online Pricing
3 Different Formats
Full Color Printing
Low Minimums
Volume Discounts
5 Day Turnaround
Plus the best quality membership cards available. Your instant online membership card price is just a few clicks away . . .
Design your membership card printing project online.
Choose this service to design your plastic membership cards project – online!. We provide the membership card layouts and you use our online design tools to add your text and images. It's easy to get professional design results – no experience needed.
Here's how our online membership card printing designer works:
Choose A Layout
Upload Your Logo
Paste In Your Text
Add Your Images (our ours)
Design Completed Instantly
There is never any charge for using our online plastic membership card printing design studio, so what are you waiting for?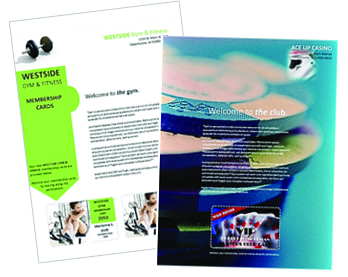 Related Products
Do your own membership card printing on stock.
Choose this membership card printing service if you print your own cards – on entirely blank stock.
We ship completely blank plastic membership cards to you and you do the rest.
Like our other card printing products, these cards are suitable for printing through most desktop laser printers. What makes membership card printing with this product different is that the cards arrive to you, completely blank and un-printed.
Our blank products for plastic membership cards printing include these features:
Instant Online Pricing
Volume Discounts
Low Minimums
24 Hour Turnaround
PLEASE NOTE: Full color digitally printed options on the 1 up and 2 products are a finished product that includes variable printed information such as names and membership numbers, these are not printable on your laser printer.
About Our LaserWell® Membership Card Printing Services.
All of our plastic membership cards printing products are premium, LaserWell® brand. We choose LaserWell® for our card products because the card and paper design features a de-bossed "well" or cavity into which the plastic (synthetic) membership card is affixed,. This results in card printing that runs smoothly through most laser printers for jam-free personalization. LaserWell® brand also enables one-at-a-time, manual-feeding during card printing.
LaserWell® Membership Card Printing Features Include:
One To Three Plastic Cards Affixed To A Laser Compatible Sheet
7 mil Synthetic Plastic Card Material With No-Smudge Surface
Works With Most HP®, Canon®, Lexmark®, Konica® Minolta® and Samsung® Laser Printers
Check out our other plastic card printing products.
Membership card printing from the leading membership card company. Plastic membership cards printed with the right options at the right value pricing.