Shipping Label Products
The best performing shipping label products are right here.
About our stock shipping label offering.
Our stock shipping label offering includes products specially designed to meet the unique needs of high volume shipping and distribution centers. We offer high performance mailing label constructions and materials that meet the needs of some of the country's biggest volume shippers.
Our shipping label products offering features:
Like Avery® Label Laser Sheet Products
"Fold Over" Mailing Label Products
High Demand – High Performance Constructions
Low Minimums & Volume Discounts
Fast 24 Hour Turnaround Time
Like Avery® Label Products
Some of our highest demand shipping label products are like Avery® label products. They are the same size and made from the same mailing label materials, providing excellent results for the most sophisticated – and simplest – package labeling solutions. Your advantage when sourcing your like Avery® label products from us. We offer these laser label products on Avery® label like sheets:
8 1/2" x 11"
4" x 5"
4" x 3 1/3"
4" x 2"
2 5/8" x 1"
8 1/2" x 5 1/2"
Unique "Fold Over" Shipping Label Products
Our "fold under" shipping label products consolidate multiple mailing label processes into a simple printing operation.
Common 8 Step Shipping Label Process
Print the label
Peel
Apply
Print packing slip in another printer
Fold packing slip
Insert packing slip into sleeve
Peel sleeve
Apply sleeve
Fold Under Shipping Label Process
Print mailing label and packing slip
Peel mailing label and packing slip
Fold packing slip under mailing label
Apply mailing label to carton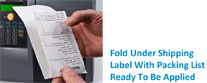 Solving shipping label challenges online and onsite.
Our site features the most popular shipping label products we offer. If your needs go beyond the products you see here or if you need insight from our professional label solutions team, please let us know. Our labels are efficiently and effectively applied to millions of packages every month. Let us know how to share our knowledge with you.
Shipping label products like Avery label products for high-performance mailing label operations. Popular sizes and configurations. In stock and ready-to-ship.